Our networks provide total connectivity and fast mobility with extreme simplicity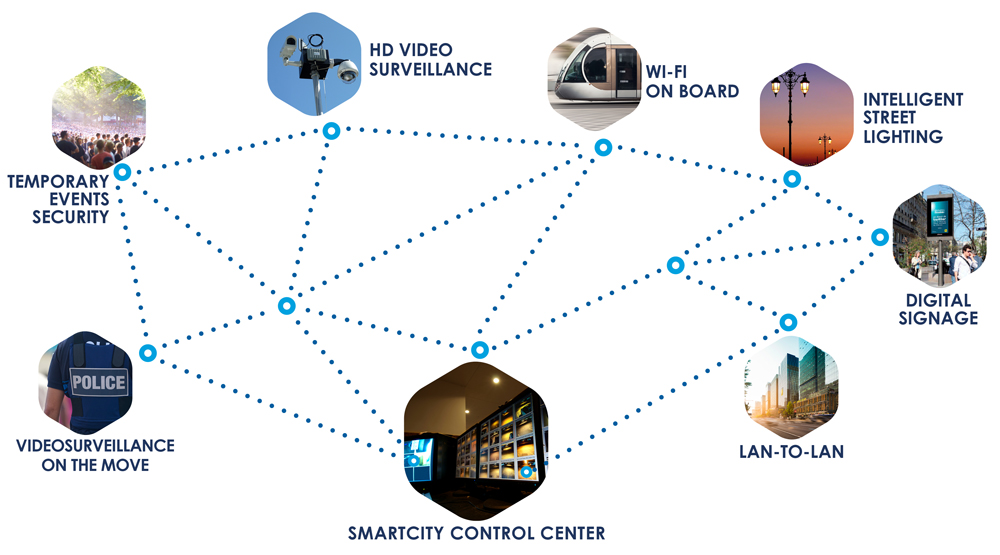 Our routers WiMesh allow you to deploy wireless private networks with very high performance, easily and cheaply. Our technology embeds unique and patented algorithms to enrich the standard mechanisms of IP routing and to build intelligent, resilient and mobile mesh networks.
Why choose between speed & fiber reliability and flexibility & the mobility of 3G / 4G or Wi-Fi while you can have the best
both ?
THE PERFORMANCE OF A FIXED NETWORK … WIRELESS
An ultimate mobile solution for applications requiring ultra-fast broadband, low latency, and end-to-end quality of service. Routers handle 600Mbit / s wireless transmissions with less than 2ms latency and no jitter . the rates are maintained regardless of the number of jumps, without additional latency.
UNIVERSAL IP SOLUTIONS
Our WiMesh routers can be deployed alone or in addition to any other network equipment. They have Ethernet or Wi-Fi interfaces to connect sensors, cameras, LAN and any IP endpoint to your existing IP network. And thanks to the numerous Level2 / Level3 functions, our WiMesh routers will easily fit into the most complex IP networks.
THE MAGIC OF RADIO ALGORITHMS FOR A HIGH-SPEED WIRELESS NETWORK
The Routing Assistance Engine is unique. It gives each WiMesh router the intelligence to maximize radio performance on the fly. This is not magic! It is a combination of our patented algorithms: MRO with LQA and MCPC that allows to choose the best wireless interface with the best radio channel to route each IP packet with the best possible performance at any time according to multiple fixed and dynamic criteria.
Total flexibility
Our WiMesh routers manage the architecture that best fits your topology regardless of your application. They deliver the flow you need and when needed they give you more by simple software upgrade.

THE ARCHITECTURE YOU WANT
Point-to-point, point-to-multipoint, mobile nodes, loop architectures, relaying or fully meshed: Routers know how to do everything. They can even mix these architectures to connect each point of your wireless network optimally . And if your network evolves, they adapt to ensure you a perfect connectivity.
MOVE YOUR NETWORK
Our WiMesh routers connect your devices to your LAN wherever they are. As the link is wireless, it is very easy and super fast to deploy any equipment anywhere on site. And when needed, you can move your terminals without having to rewire or pay for expensive civil engineering work.
Coming from military concepts, C4i Communication WiMesh networks are used every day in the most extreme security conditions.
A RELIABILITY OF MILITARY QUALITY
C4i Communication OS distributes intelligence to create a fully decentralized network without a weak link (SPOF). To guarantee a very high fault tolerance, resist interference and extreme resilience, the system transmits on several radio links simultaneously. Our patented MRO algorithm (Multi-Radio Optimization) ensures that the best radio interface is used at all times. By adding powerful encryption algorithms and using dynamic keys, you will understand why so many police units and special forces have chosen our systems.
SELF-HEALING NETWORKS
Our self-healing networks automatically adapt to changing environments to ensure the best quality of service in all conditions. If a link is cut or a network node falls, the network automatically reconfigures itself to continue transmitting. Adding a node does not interrupt the network either: each WiMesh router detects the newcomer and automatically adds the new route to its settings.
YOUR OWN NETWORK
Your critical applications require a guaranteed quality of service. Imagine that you need to secure an event on New Year's Day. It is highly likely that 3G / 4G networks will not be available to connect your CCTV cameras. A WiMesh network is your own dedicated wireless infrastructure. Only you can use it so it's never saturated and all the bandwidth is available for your critical applications.
Seamless mobility
From buses to trains to robots to drones, C4i Communication's unique mobile broadband technology is transforming the way we live and work.
YOUR OWN MOBILE NETWORK
When a WiMesh C4i Communication Router moves, the entire network moves. How? Thanks to the unique features of our operating system. C4i Communication OS gives each router the intelligence to choose the best link and ensure handover instantly, without loss of package or session , up to 350km/h! A record on the market.
CONNECTIVITY FROM END TO END
Designed for outdoor environments, C4i Communication routers seamlessly connect your devices without any technical intervention. Whether you need reliable and ongoing connectivity to your mobile business applications , or high-speed network access in high-speed moving vehicles, our systems manage the infrastructure so you can focus on your mission.
NON-LINEAR NON-PREDICTIVE MOBILITY
Our WiMesh technology allows each mobile to be connected at any time to multiple fixed access points strong>. Each mobile can also relay the traffic of those who have no direct connection to the fixed network. So there is always a way to join the network allowing mobile to move as they wish : linear or not, predictive or not, relaying between mobiles, convoy of mobiles, etc. The WiMesh allows total mobility.
No electricity ? No problem ! Our standalone routers allow you to deploy your network anywhere wirelessly.
DEPLOY EVERYWHERE SIMPLY
C4i Communication OS revolutionizes outdoor communication systems by offering fully autonomous wireless solutions! Completely integrated, C4i Communication standalone solutions are easy to deploy and can even power your connected devices (cameras, sensors, etc.). No constraints of wiring and connections. Deploy your temporary network quickly everywhere without any complexity or risk of implementation.
INTELLIGENT BATTERIES
The batteries WiMesh autonomous routers are chainable to infinity, thus offering a battery life of several days. Their intelligent management system is fully integrated with C4i Communication OS. Thus, the state of the batteries and the associated alerts are accessible through the network. Other WiMesh routers in the infrastructure can even take this information into account to enrich their routing rules and choose paths based on the state of the batteries.
Rapid deployment broadband wireless network
A WiMesh network does not require cabling or expensive building work. Our equipment can be easily installed where you need it and moved at any time.
DEPLOY AT THE SPEED OF LIGHT
WiMesh C4i Communication routers are self-configurable . They automatically discover those nearby and securely connect step-by-step to instantly build a dynamic radio infrastructure . No complex settings are necessary. Simple and fast. Even non-technical people can deploy a WiMesh network . A real relief in emergencies and an undeniable advantage for critical missions.
EASY NETWORK MANAGEMENT
Design, configuration, rapid deployment, management and troubleshooting of your wireless network. So many tasks that should not be complicated or take time. With MeshTool Suite , C4i Communication offers you a unique tool on the market . You finally have a instant view of your infrastructure WiMesh and a set of advanced features with an intuitive graphical interface that will change the way you think managing a private mobile network.