Jammers
EXPLOSIVE ORDINANCE DISPOSAL
EXPLOSIVE ORDINANCE DISPOSAL SOLUTIONS
JAM-VIP4 CONVOY PROTECTION 1750Watts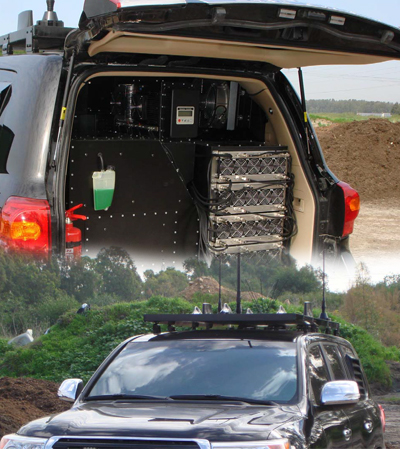 We developed the Jam-VIP4 to provide the ultimate solution for saving lives which are threatened by roadside bombs (IEDs). The latest technology in RF jamming, coupled with tate-of-the-art techniques in the specialized armoring and protection of military road transportation, provides our customers with a complete turn-key solution
Increase total RF power up to 1750 Watt.

Increased total EIRP power up to 5500 Watt

Upgraded jamming signal source to provide utmost efficiency.

Double power source: High power (7KW) DC alternator and high capacity batteries.

New design of modular ALL-IN system construction with totally upgraded RF power amplifier
modules with built-in protection against high VSWR. over-burning, over-current, and over voltage.

Additional high efficiency active "smart" cooling systems dedicated to the jamming system unit.

New antenna design and configuration with increased gain to enhance neld coverage which installed
on the easy replaceable metal roof panel.

Full vehicle RF shielding and EMI protection.