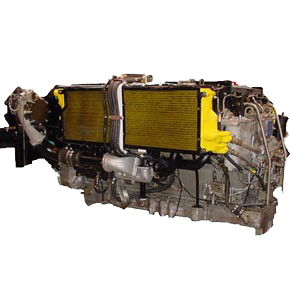 Power pack upgrade with transmission and final drive
The most common upgrade option for the M60 is the retrofit and/or exchange of the AVDS-1790-2 engine with the AVDS-1790-5A engine. This upgrade provides an increase in power output from 750HP to 950HP. The upgrade can be performed on existing engines and includes changes to internal components and external accessories. Most often, an exchange program is offered to allow the conversion to be performed remotely under controlled conditions for the highest quality and reliability.
When upgrading the engine, the transmission will be upgraded to ensure longevity and reliability with the new additional power. The transmission is upgraded on an exchange basis only. Other upgrades are possible to higher powers and substitute brands of powerplant, but these require additional engineering and the cost most often outweighs the benefit.
Our technical solution upgrades the existing power pack stead of replacing it with a new one.
We obtain an up-power of > 20% of the power-to-weight ratio with significant cost saving for avoiding:
▪ New power train unitary cost
▪ Heavy hull modifications to host the new Power Train (engine, transmission and final drive)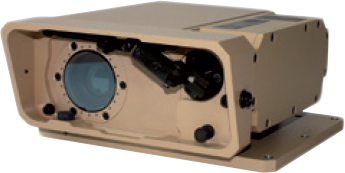 Our driver and local situational awareness cameras provide a complete range of cameras for installation on to military vehicles to provide passive, wide-angle indirect view observation. Designed to enhance the operability of armored vehicles, these cameras provide optimum vision and improved situational awareness for today's 24-hour all weather battlefield environment.
QUALIFIED FOR MILITARY ARMOURED FIGHTING VEHICLE USE AND PROTECTED MOBILITY
• Operating Temperature: -32 to +71°C (including Solar Loading)
• Weight: 2.5Kg, 6.6Kg (with Wash/Wipe Module)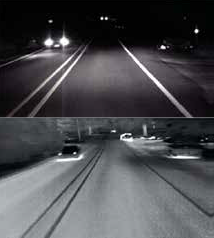 THERMAL IMAGER
• Spectral Band: 8 to 14μm
• Field of View: 52°Horizontal x 39°Vertical
• Detector Type: Uncooled Micro-Bolometer
• Detector Pixels: 640 x 480
INTEGRAL CCD CAMERA
• Color CCD, switching to Monochrome at low light.
• Sensitivity: 1 to 100,000 Lux
• Field of View: 62°Horizontal x 46.5°Vertical
• Detector Pixels: 752 x 582
• Detector Format: 1/3" CCD
• Resolution: >550 TV Lines in Daylight
VIDEO OUTPUT STANDARDS
• Digital Video Format: Def Stan 00-82 or GigE Vision on 1000 BASE-T Ethernet
• Analogue Video Format: CCIR or RS 170
OPERATIONAL STATUS
• In service with the British Army on wheeled and tracked vehicles.
DIMENSIONS WIDTH X HEIGHT X DEPTH (MM) (INC. CONNECTOR)
• DNVS 4: 142 x 83 x 181 • With Wash/Wipe Module: 199 x 92 x 221